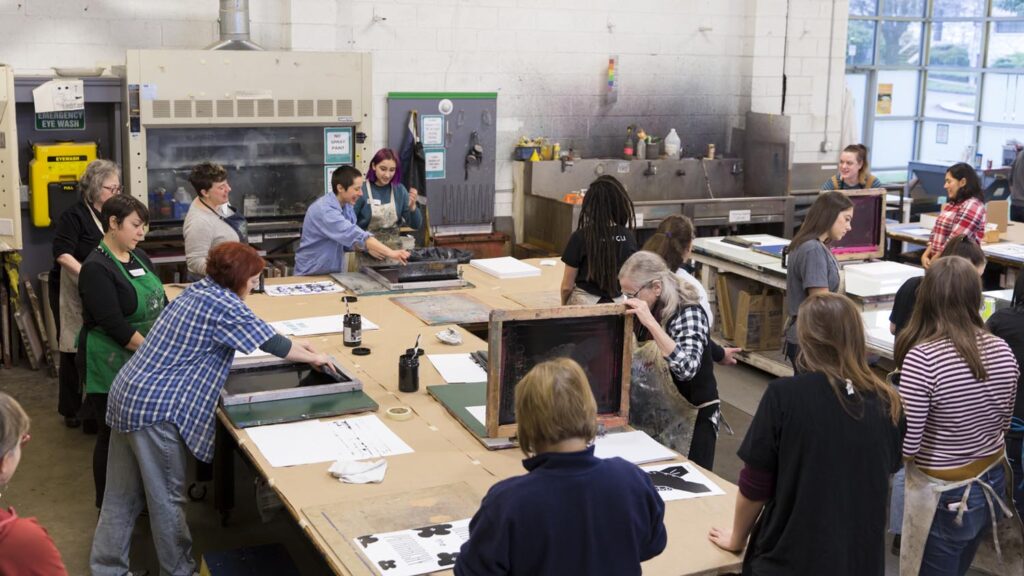 Thank you so very much to everyone who showed up for the Screenprinting Work Party in support of the Womxn's March!
We printed nearly 1000 posters in 5 designs by artists Eileen Jimenez, Leigh Riibe, and Lynda Sherman.
We offer a $100 stipend to artists for their designs and encourage you to support the artists directly if it moves you.
Venmo or Paypal money to Eileen using her email: eileengjimenez@gmail.com
Paypal money to Lynda using her email: bremelo65@hotmail.com
With snow in the forecast, the organizers of the Seattle Womxn's March have rescheduled it for March 8th–International Womxn's Day. Find the info here.
Despite the reschedule, posters will be available for pick up throughout this week. Pratt may be closed during regular hours. They follow the Seattle University Inclement Weather policy and so hours will be posted on the homepage of Seattle University: https://www.seattleu.edu
Claire will also have posters available at Orange Twist Studio open on Fridays and Saturdays 12-6pm and located at 3400 Harbor Ave SW.
If you're outside of Seattle and want to download and print the posters visit bit.ly/protestposters
Thank you again for being a part of SWP and your activism. It's heartening to print, visit, and share with you.